The Fresno County Democratic Central Committee has not endorsed any candidate in this race.
Hey, it's Jen! This is a special issue from Campaign Manager Jen O'Malley Dillon. ‌ ‌ ‌ ‌ ‌ ‌ ‌ ‌ ‌ ‌ ‌ ‌ ‌  ‌ ‌ ‌ ‌ ‌ ‌ ‌ ‌ ‌ ‌ ‌ ‌ ‌  ‌ ‌ ‌ ‌ ‌ ‌ ‌ ‌ ‌ ‌ ‌ ‌ ‌  ‌ ‌ ‌ ‌ ‌ ‌ ‌ ‌ ‌ ‌ ‌ ‌ ‌  ‌ ‌ ‌ ‌ ‌ ‌ ‌ ‌ ‌ ‌ ‌ ‌ ‌  ‌ ‌ ‌ ‌ ‌ ‌ ‌ ‌ ‌ ‌ ‌ ‌ ‌  ‌ ‌ ‌ ‌ ‌ ‌ ‌ ‌ ‌ ‌ ‌ ‌ ‌  ‌ ‌ ‌ ‌ ‌ ‌ ‌ ‌ ‌ ‌ ‌ ‌ ‌  ‌ ‌ ‌ ‌ ‌ ‌ ‌ ‌ ‌ ‌ ‌ ‌ ‌  ‌ ‌ ‌ ‌ ‌ ‌ ‌ ‌ ‌ ‌ ‌ ‌ ‌  ‌ ‌ ‌ ‌ ‌ ‌ ‌ ‌ ‌ ‌ ‌ ‌ ‌  ‌ ‌ ‌ ‌ ‌ ‌ ‌ ‌ ‌ ‌ ‌ ‌ ‌  ‌ ‌ ‌ ‌ ‌ ‌ ‌ ‌ ‌ ‌ ‌ ‌ ‌  ‌ ‌ ‌ ‌ ‌ ‌ ‌ ‌ ‌ ‌ ‌ ‌ ‌  ‌ ‌ ‌ ‌ ‌ ‌ ‌ ‌ ‌ ‌ ‌ ‌ ‌  ‌ ‌ ‌ ‌ ‌ ‌ ‌ ‌ ‌ ‌ ‌ ‌ ‌  ‌ ‌ ‌ ‌ ‌ ‌ ‌ ‌ ‌ ‌ ‌ ‌ ‌  ‌ ‌ ‌ ‌ ‌ ‌ ‌ ‌ ‌ ‌ ‌ ‌ ‌  ‌ ‌ ‌ ‌ ‌ ‌ ‌ ‌ ‌ ‌ ‌ ‌ ‌  ‌ ‌ ‌ ‌ ‌ ‌ ‌ ‌ ‌ ‌ ‌ ‌ ‌  ‌ ‌ ‌ ‌ ‌ ‌ ‌ ‌ ‌ ‌ ‌ ‌ ‌  ‌ ‌ ‌ ‌ ‌ ‌ ‌ ‌ ‌ ‌ ‌ ‌ ‌  ‌ ‌ ‌ ‌ ‌ ‌ ‌ ‌ ‌ ‌ ‌ ‌ ‌  ‌ ‌ ‌ ‌ ‌ ‌ ‌ ‌ ‌ ‌ ‌ ‌ ‌ 
font-family: Tahoma,Helvetica, Arial,sans-serif;
This week, tragedy struck El Paso – a community that has opened up its doors so graciously to Team Beto and welcomed us in as if we've lived here our entire lives. The strength and courage we've seen from people across this city, and our binational neighbors in Juárez, have shown that this community will not be defined by division or hate – but by love and compassion. 
In this issue, we are honoring those lost and the acts of heroism and resilience we've seen across El Paso.
On Saturday, we lost 22 innocent lives. We have the power to end this epidemic. Let us do better for them, for ourselves, and for the next generation:
Javier Rodríguez. 15. Javier was getting ready to start his sophomore year, a soccer player ready to start another season. His whole life ahead of him. His sister says she "lost my everything, my best friend." 
His classmates organized a vigil for him. No student should ever have to do that. We must not accept this epidemic as a new normal or the status quo. Let's do better for this generation and the ones that follow. 
Jordan Anchondo. 24 years-old. She went to Walmart to buy school supplies—and decorations for her daughter's 6th birthday party. When the gunman entered, she shielded her 2-month-old son. Jordan didn't make it, but her son did. 
Andre Anchondo. Jordan's husband. 23 years-old. They married last year. He'd just finished building their family a home. Saturday was going to be the first time family & friends would see it. But he, too, was killed—while shielding his wife, who was shielding their son. 
Arturo Benavides. 60 years-old. An Army veteran and a bus driver—he spent his life serving our community and our country. His wife was with him in Walmart. She made it out. He did not.
David Johnson. 63 years-old. When hatred entered Walmart on Saturday morning, David responded by protecting his wife and his 9 year-old granddaughter. He passed away, but they survived. 
Jorge Calvillo García. At 61 years-old, Jorge passed away this weekend while he was protecting his granddaughter. He was from Torreón, Mexico. His son, Luis Calvillo, was shot as well. They were outside of Walmart on Saturday, raising funds for EP Fusion, a local girl's soccer team. 
María Eugenia Legarreta Rothe. María is from Chihuahua, Mexico—and was only here so she could be at the El Paso airport when her daughter arrived. She was 58 years-old. 
Teresa Sanchez. At 82 years-old, Teresa bore the brunt of evil on Saturday. She was from Mexico as well. 
Luis Alfonzo Juárez. 90 years-old. His wife, who he'd been married to for almost 70 years, was also a victim of Saturday's shooting. He didn't make it—but thankfully, she did. Beto was able to meet their family at the hospital, and they're showing this community's strength.
Gloria Irma Márquez. A mother of four and a grandmother, Gloria was from Juárez—part of our binational community. She lost her life at 61 years-old because this country failed to protect her. 
Iván Manzano. Like Gloria, Iván was from Juárez, where so many of our neighbors live. He was 46 years-old when he lost his life in our country. 
Elsa Mendoza Márquez. 57 years-old. Elsa lived across the border in Juárez, where she was a teacher. When she ran into Walmart on Saturday to buy supplies for her students in Juárez, her husband and son waited outside in the car. They survived the shooting. Tragically, she did not. 
Sara Esther Regalado. 66 years-old. Adolfo Cerros Hernández. 68 years-old. They, too, were from Mexico—and are remembered as being loving parents. "I don't know how long it will take for my soul to heal," their daughter wrote. 
Alexander Gerhard Hoffman. Alexander also wasn't from the United States. He was from Germany—but he lost his life visiting our country at 66 years-old. 
Maria Flores and Raúl Flores. The couple went to Walmart on Saturday morning and never came home. They were 77 years-old. Both of them. 
Angie Silva Englisbee. 86 years-old. This wasn't the first time Angie experienced tragedy. Her husband died at 38 years-old, leaving her to raise seven kids by herself. Her grandson called her "the hero of our family." She, too, was killed.
Leo Campos. 41 years-old. Maribel Hernandez. 56 years-old. They went to Walmart after leaving their dog to be groomed. When Maribel's brother heard they never came to pick him up, he feared the worst. Soon, it was confirmed: Leo and Maribel had both lost their lives. 
Margie Reckard. 63 years-old. "I'm like a puppy run away from its momma," said Antonio Basco, her husband of 22 years. "But my wife, she'd say, 'Get up off your rear end." He continued: "I know she's looking down and she's smiling." 
Juan de Dios Velázquez Chairez. Juan and his wife, Nicholasa, shopped together every week. Juan was from Zacatecas, Mexico, but had lived in El Paso for two years. Nicholasa was injured in the shooting. Juan lost his life at 77 years-old.
Courage. Strength. Resilience.
This is Chris. He is a hero. He was at the Walmart on Saturday with his mom. When he heard gunshots, he made sure his mom was okay, then he ran towards the killer and threw bottles of apple juice at him to distract him. Even though he knew it meant he would be in the line of fire. We are so glad Chris is recovering and honored that he calls this community home. 
This is Gilbert. He was working at Walmart on Saturday. When he heard shots in the store he led nearly 100 people out of a back door, then ran back inside to help more people. El Paso will not be defined by Saturday's attack. It will be defined by heroes like Gilbert. 
This is Glendon. He was at the Cielo Vista mall when the attack occurred. He was exiting the mall when he saw a number of children at the mall without their parents. Without taking a minute to think, he ran towards the kids and tried to carry as many as he could to safety. We are honored, grateful and inspired by his bravery. 
This is Tinkerbell. Beto met her at University Medical Center in El Paso, where she was providing support and love to family members of victims and survivors of the El Paso attack. 
"We are the sun city and no darkness will be able to dim our light." – Mari, Student Body President, El Dorado High School, El Paso, Texas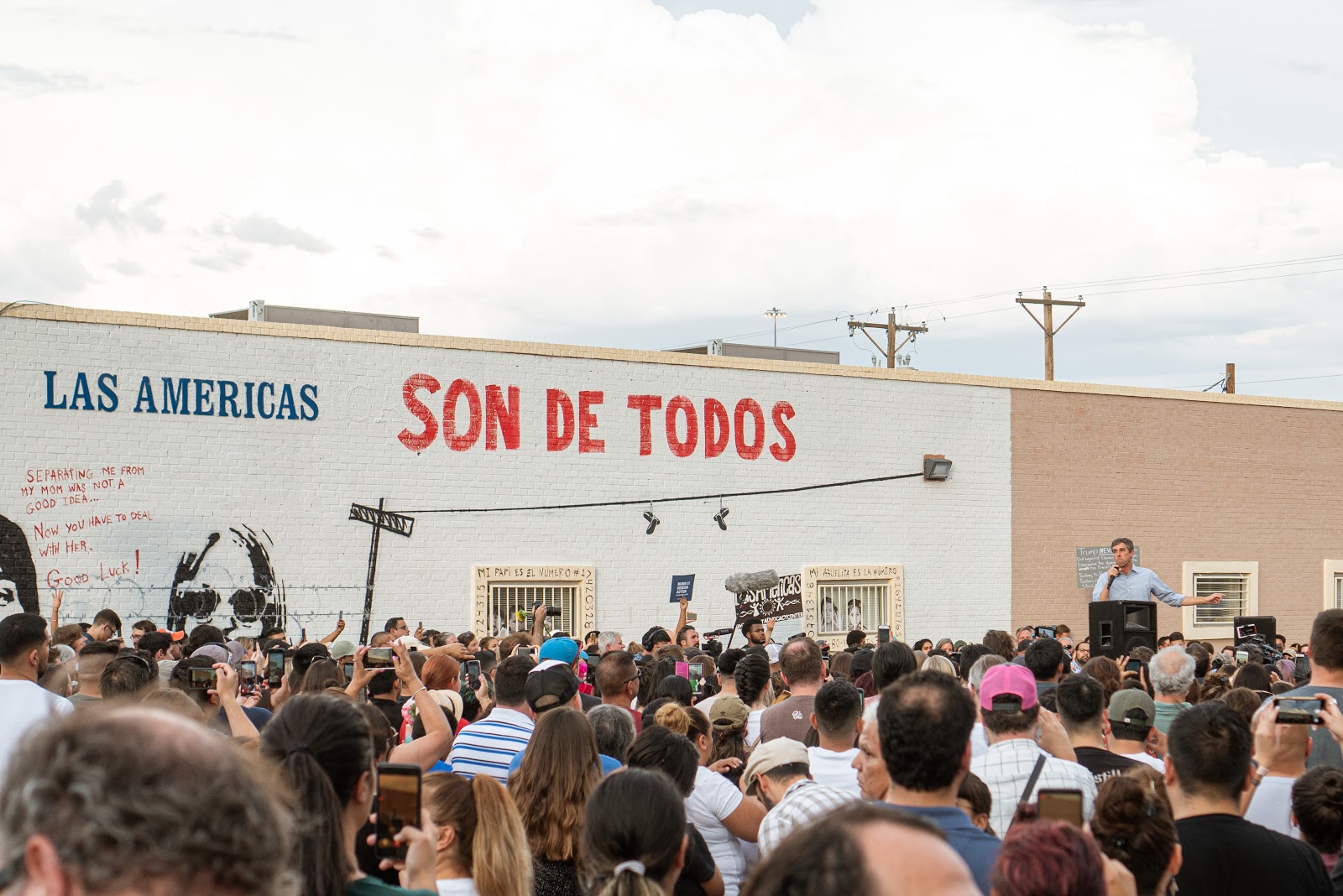 "Over this past week, Beto and I have met survivors and their families at the hospitals, attended vigils, donated blood— anything that seemed like it would help. As I write this, we've just returned from going to the makeshift memorial outside the Walmart. It has been full of people all day, every day…
"We are a beautiful city, full of beautiful people. It has been clear to me since I moved here 15 years ago, and it shined through so powerfully following the shooting. The outpouring of love, support, and strength could be seen everywhere and from everyone. But we are not insulated from the rest of the country. That much became clear to us last Saturday."
Read Amy's full note to Team Beto on Medium.
El Paso and Ciudad Juárez make up the largest binational community in the Western Hemisphere. Our connection runs deeper than geography – and our ties create something far greater than the sum of our parts. 
Yesterday, Beto crossed the international bridge to Juárez to attend the funeral of one of the seven Mexican nationals who was killed during Saturday's attack. During Beto's visit, he met with Chihuahua Governor Javier Corral Jurado and Armando Cabada, Municipal President of Ciudad Juárez. Together the three showed that this binational community is stronger and closer than it has ever been.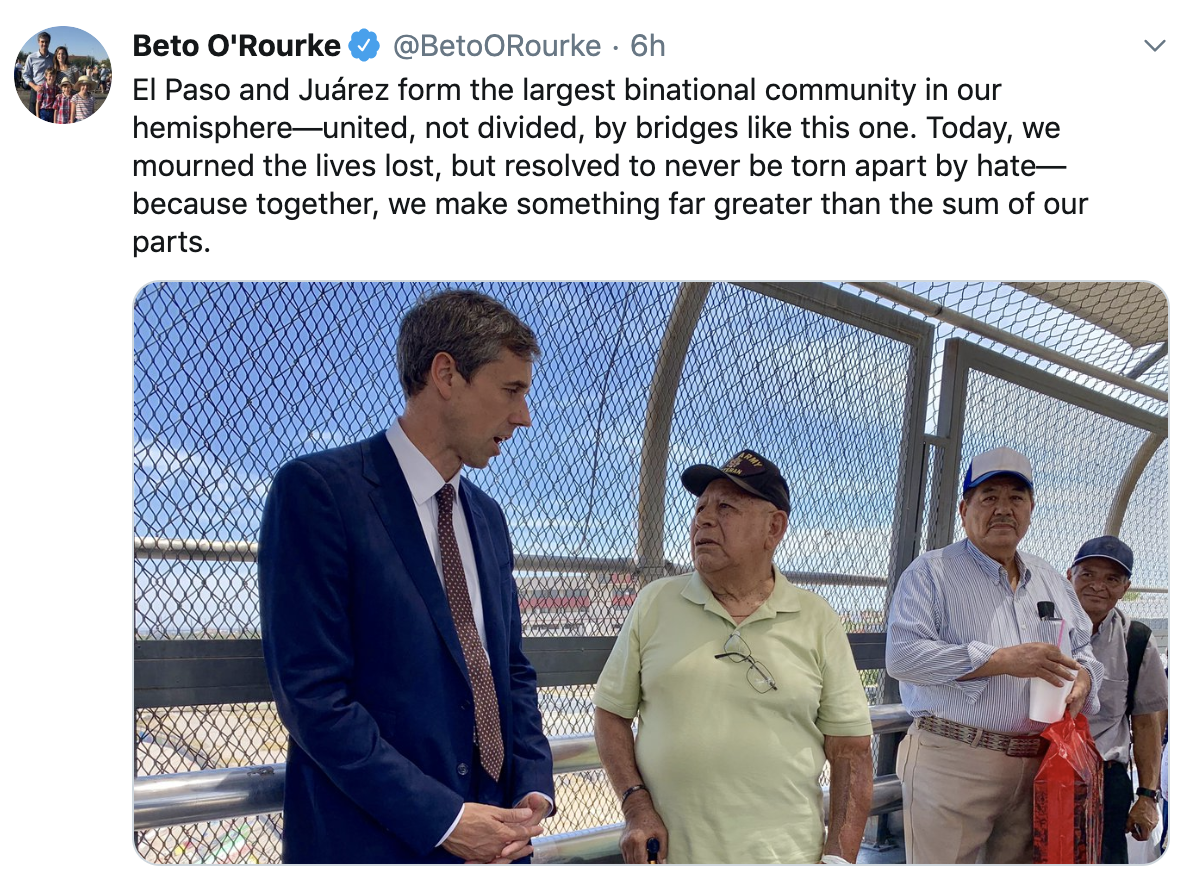 To support the families of those we lost and those affected by the attack on Saturday, please consider donating to the El Paso Community Foundation. 
Thank you for standing with El Paso and with Beto. 
– Jen

Paid for by Beto for America
 This campaign is powered by grassroots supporters like you.  To contribute via check, please address to Beto for America campaign, P.O. Box 3628 El Paso, TX 79923.