News from Representative Costa
Dear Friend,
We're in Washington this week working on important legislation to reform our immigration system, ensure access to healthcare, and advance women's rights. Here are some highlights: 
---
New Tax Deadline
The 2020 tax filing and payment deadline was extended to May 17th as a result of the pandemic. Individual taxpayers will avoid interest and penalties on taxes paid by the new deadline. Find out more information.
---
Helping rural health clinics

Healthcare clinics throughout our Valley provide important access to achieve access to quality healthcare every day. Working with my Congressional colleagues, we were able to pass legislation to prevent cuts to Medicare by correcting an error in a previous coronavirus relief package. Restoring these Medicare payments helps to ensure rural health clinics in the Valley and across the country can serve underserved communities during this critical health crisis.  
---
Extended healthcare enrollment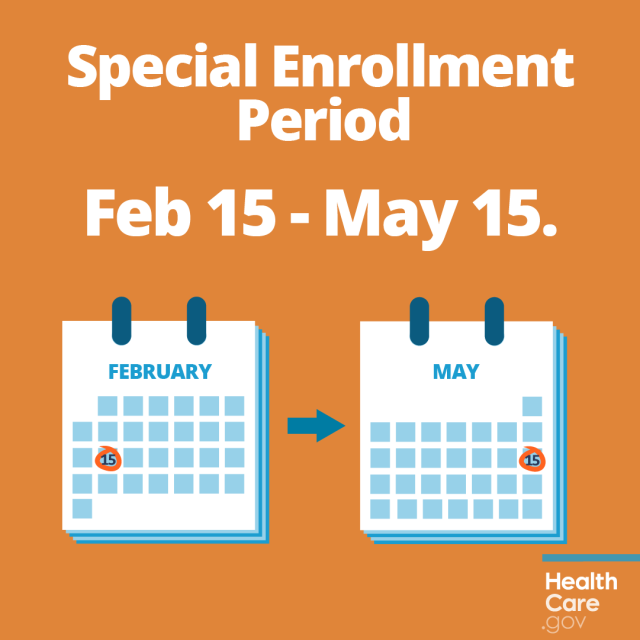 President Biden recently announced a new special enrollment period to increase access to affordable health insurance while we continue to fight the pandemic. You can explore options and sign up here until May 15th, 2021. This is one of the ways we're improving the Affordable Care Act. 
---
Providing COVID-19 relief
The benefits of the American Rescue Plan (ARP) are already hitting our communities with $1,400 stimulus checks starting to hit bank accounts, 15% increase in federal food assistance for those struggling to feed their families, new agriculture programs to assist farmers, and significant dollars heading to our local governments.  
The ARP also provides significant funding for a national vaccination plan, which we are witnessing here at home. I visited clinics in Livingston, Merced, Dos Palos and Fresno. This legislation is already helping.    
The American Rescue Plan Act also provides $120 billion for our schools to open up safely and ensure they stay open. These funds can be used to prepare for physical reopening and make up for lost learning time due to interrupted instruction.  
---
Protecting our borders and fixing our broken immigration system

 
The Biden Administration, like previous Administrations, is faced with the challenge of fixing our broken immigration system and protecting our borders. I'm committed to doing both. We are faced with multiple issues in protecting our border and I believe they need bipartisan support. Issues of needed asylum must be addressed. At the same time, protecting our border from criminal activities continues to be a critical issue. I believe we can do both. Clearly, humanely treating children and those fleeing for fear of their lives is something for which we and our neighboring nations to the south share responsibility. It's my hope that the Administration will develop a plan soon to do just that.
In the meantime, I voted to pass the Dream and Promise Act, which will protect Dreamers, Temporary Protest Status (TPS) recipients, and Deferred Enforcement Departure (DED) holders by providing them a pathway to citizenship. 
In addition, I also cosponsored and worked very hard on a bipartisan effort to pass the Farm Workforce Modernization Act. This creates a path to legal residency for nearly 250,000 California farmworkers, who are essential workers that help put food on America's dinner table every night.  They and their families risk their health and safety during this pandemic and every day to feed Americans and this is the right thing to do. 
Both bills are important steps toward comprehensive immigration reform and restore certainty to the lives of millions of hardworking immigrants in the Valley and around the country, but we still need to better secure our borders and work on comprehensive immigration reform.  
---
Fighting for women's rights
As co-chair and co-founder of the Crime Survivors and Justice Caucus, I'm proud to support the Violence Against Women Reauthorization Act of 2021. The transformative legislation calls for the protection of all Americans, particularly women and young girls, from violence and abuse and works to ensure survivors have access to essential services and justice.
I'm proud to have also supported a resolution to remove the deadline on ratification of the Equal Rights Amendment, laying the groundwork for women to live under equal protection of the law. We must always work to ensure every citizen of this country is treated as equal and valued members of society.
Read more on the Violence Against Women Reauthorization Act of 2021 and H.J. Res 17.
---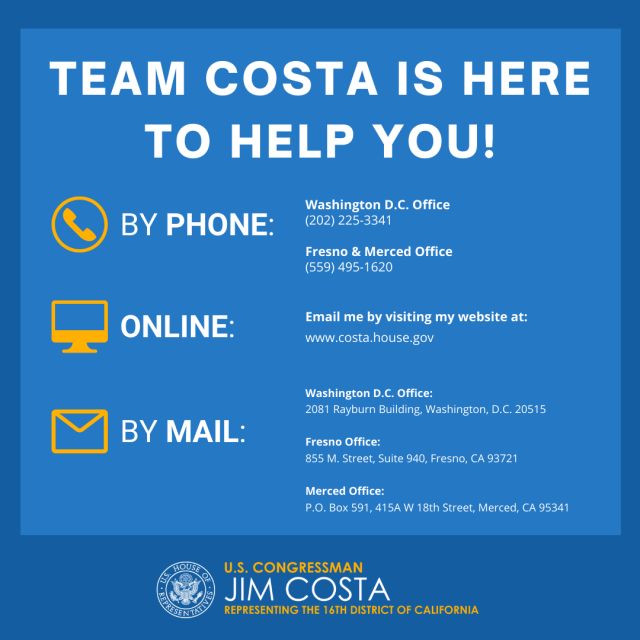 ---
We are here to help. Please contact my office if you need assistance.
Sincerely,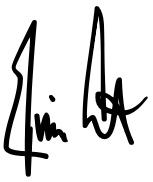 Jim Costa
Member of Congress
Click here to subscribe to my e-newsletter
 

Fresno Office
855 M Street
Suite 940
Fresno, CA 93721
559-495-1620

Merced Office
2222 M Street
Suite 305
Merced, CA 95340
209-384-1620

Washington, DC
2081 Rayburn
House Office Building
Washington, DC 20515
202-225-3341