Big news,
Because of your incredible grassroots support, we just launched our first ad of the election and it's running across the Central Valley!Will you take a moment to watch, and if you're able, donate $5 or more to help us stay on the airwaves through the end of the month?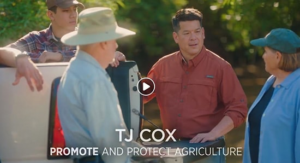 In the Central Valley, our agricultural economy is our way of life. In Congress, we need new leadership that's going to advocate for our needs here at home. That means protecting our local economy by getting tough on Trump's trade war, investing in new technology to create new jobs, and making sure that local families have the health care access we need to live healthy, productive lives.
The stakes are too high and there's too much work to be done to allow David Valadao to keep rubber stamping a failing Washington agenda. That's why it's crucial that we reach as many voters as we can on the air and online so we can flip this seat.
Please take a moment to watch our new ad, then donate to help keep it on the air >>
Thank you,
Team TJ