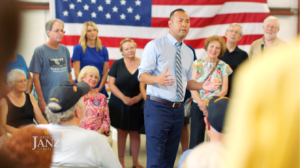 Prosecutor Andrew Janz Launches "For All" Campaign in his bid to Unseat Devin Nunes in CA-22
Fresno, CA (Aug 15th, 2018) – In his fight to represent California's 22nd Congressional district, Prosecutor Andrew Janz released his "For All" ad campaign with both a 30-second and 60-second version. "For All" highlights Andrew's upbringing in Visalia, the importance of being raised by immigrant parents, and how a Washington run by people like Devin Nunes has forgotten about the issues critical to the Central Valley: securing water for our farmers, protecting Medicare and social security, and refusing corporate PAC money in order to represent real working families. 
The 60-second video can be viewed here: https://youtu.be/D5ywAjMD8zY 
The 30-second video can be viewed here: https://youtu.be/jfN2OpkvoSY
Andrew Janz releases, "For All", on the heels of a recent public poll showing Andrew Janz and Devin Nunes locked in a dead heat. The poll conducted by Tulchin Research is available here. As well as raising over 1.1 million dollars in the month of July alone, Andrew Janz has defied the odds and assembled the strongest challenge that Devin Nunes has faced in nearly two decades.
Andrew's strong message of justice, ethics, and accountability is a refreshing change to the scandal-ridden incumbent, Devin Nunes, who hasn't held a town hall since 2010 and hasn't hosted a public event since Andrew jumped in the race in April of 2017. For more information on Andrew, please visit www.andrewjanzforcongress.com.
######
Andrew Janz currently serves as a Violent Crimes Prosecutor for Fresno County. Raised by hard-working immigrant parents, Andrew grew up in Visalia and is a proud graduate of Redwood High. Andrew returned home to the Central Valley after law school to pursue justice and fight for his community as a Deputy District Attorney in Fresno County. Andrew and his wife Heather live in North Fresno with their two dogs Rachel and Robin.