News from Representative Costa
Dear Friend,
As the first month of the new year comes to a close, I wanted to update you on the work I've been doing on behalf of our Valley: 
---
Increasing vaccine access
There is a lot of concern in the Valley about the number of vaccines available and I want you to know that this is my top priority. I am on calls daily with our county healthcare leaders, hospitals, clinics and medical providers to assess the situation and to communicate our needs to Gov. Newsom. We are seeing results.
For example, last week Assemblymember Adam Gray, Senator Anna Caballero and I successfully increased the number of vaccines coming to Merced and are working to get Merced additional resources to help administer and track the vaccine distribution in the county.
I've also helped breakdown barriers to increase the number of providers that get approval to administer the vaccine in Fresno, Madera, and Merced Counties. That work has helped trusted institutions like UCSF Fresno receive prompt approval to administer vaccines in Fresno County, especially in rural areas where many essential food workers are located.
I continue to push for essential workers to receive vaccines sooner to help maintain our economy and food distribution systems.
Know this: We will get more vaccines. President Biden has already made changes to push 16% more vaccines to states each week. In the next few weeks, additional vaccines are expected to receive approval from the FDA and be pushed out to local communities. Our goal is to get 80% of the Valley community vaccinated by this summer. I will continue to work with our counties to make sure they have the resources to scale up the number of vaccines given each week. We are already seeing progress.
I and my staff are engaged on the vaccine issues daily. I am optimistic and confident vaccine distribution will improve each week.
Below, is more information on how to get a vaccine in your county.
More information about vaccine distribution in: 
---
Building for a better America

Our country ushered in the Biden Administration, which is intent on repairing the damage of the last four years. From rejoining the Paris Accords to strengthening DACA and providing emergency relief to help millions of Americans reeling from the COVID-19 pandemic, the Biden Administration has made it clear that no one should be left out or left behind. I look forward to working with the new Administration, as well as my colleagues across the aisle, to find common ground as we work to recover from this pandemic.
Since taking office, President Biden has signed Executive Orders on the following topics: 
---
Hometown Hero
As the Super Bowl approaches, let's take a moment to honor the Valley's own Tom Flores. He has made significant contributions to the game of football as the first Hispanic player, assistant coach and coach to win a Super Bowl. He has also never forgot where he's come from, raising nearly $2 million to support local school districts' science, art, and athletics programs. That's why I introduced a resolution calling for recognition of Tom Flores' accomplishments and his induction into the NFL Hall of Fame. I'm hopeful that Coach Flores will finally get his rightful place in football history.
---
Testing matters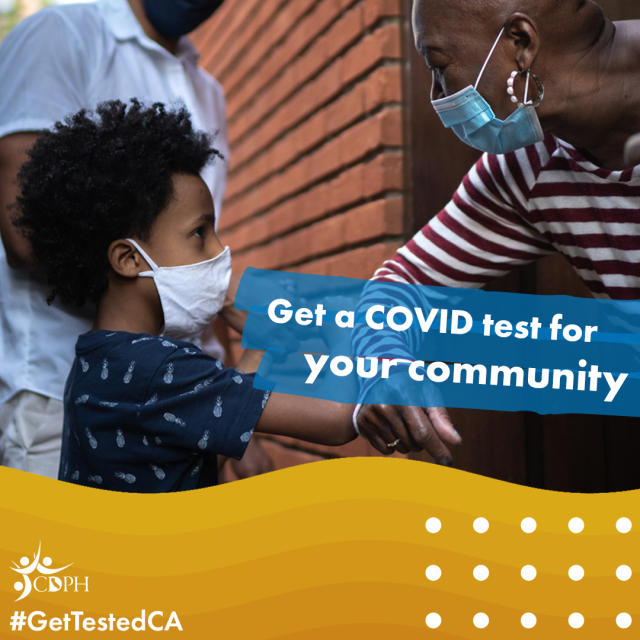 Testing is key to containing the spread of this virus. Madera, Merced and Fresno counties need us all to do our part to maintain and grow our COVID-19 testing numbers, which are key factors in determining state restrictions on businesses and gatherings. All three counties have free testing available for residents. Do not wait until you have symptoms – get tested anytime you think you've been exposed and help stop the spread.
Find testing sites here:
You can also track recent COVID-19 developments in: 
---
Military Academy Nominees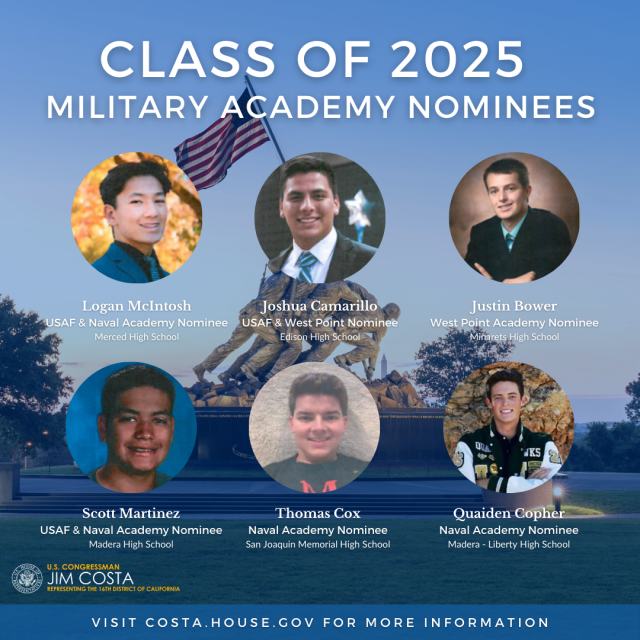 I recently nominated six high school seniors from Fresno, Madera, and Merced Counties for admission to one of the United States' service academies. From excellence in the classroom to showing leadership in the community, these students represent the best of the Valley. Their choice to pursue a career in the United States military is a testament to their dedication to our nation and commitment to excellence. I am proud to nominate them, and I wish them the best of luck in their future endeavors!
Find out more about this year's nominees and how to apply in the future.
---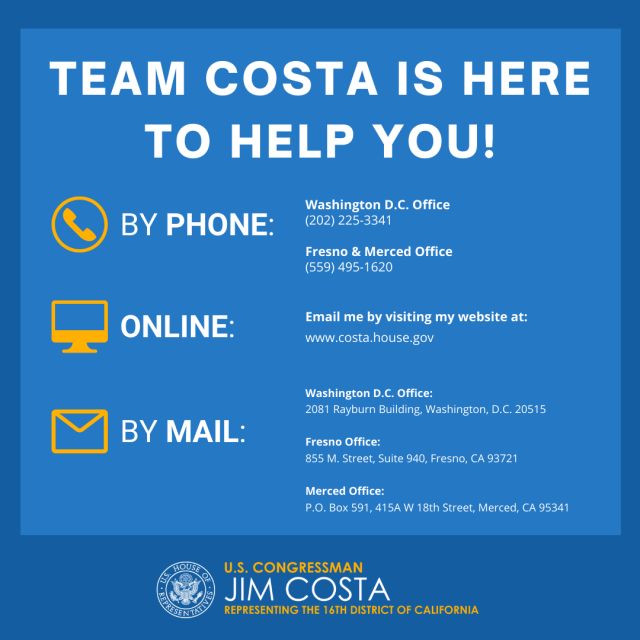 ---
Stay strong and we will get through this crisis. Please don't hesitate to contact my office if you need assistance.
Sincerely,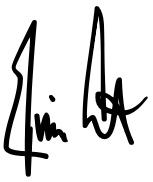 Jim Costa
Member of Congress
Click here to subscribe to my e-newsletter
 

Fresno Office
855 M Street
Suite 940
Fresno, CA 93721
559-495-1620

Merced Office
2222 M Street
Suite 305
Merced, CA 95340
209-384-1620

Washington, DC
2081 Rayburn
House Office Building
Washington, DC 20515
202-225-3341