The Fresno County Democratic Central Committee has not endorsed any candidate in this race.
Like many of you I have been following the latest whistleblower news.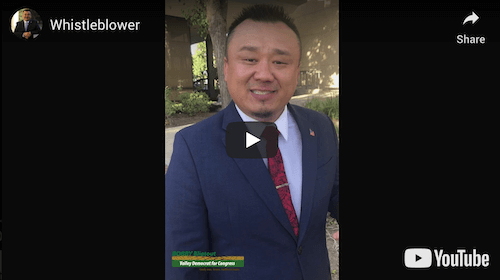 I was disgusted at President Trump's comments suggesting the person who informed the whistleblower about the details of the Trump's conversation with Ukrainian President Zelensky is a spy. Then the President went on to suggest spies should be executed.
Those people are not traitors — they are patriots!
I was equally disgusted to hear Devin Nunes make light of the situation by saying the Democrats in Congress want nude pictures of the President. Seriously Devin?
The rule of law is just that; the law. No one — not Donald Trump, not Devin Nunes, not any elected official — is above the law.
If you agree, please show your support by helping me beat Nunes by chipping in $5 or more before our most important FEC deadline yet.
It's time to send Trump's best friend in Congress, Devin Nunes, packing and I think I'm the best candidate to beat Devin in a General Election. I'm a non-profit health care executive, a former farmer, a deeply patriotic family man, and I'm not afraid of Donald Trump nor Devin Nunes!
But I can't beat them without your support.
Our FEC filing dealing is this Monday, so I'm counting on supporters like you to help me finally take down Nunes. Please, make a generous donation right away.
If you've saved your payment information with ActBlue Express, your donation will go through immediately:

We can beat Devin Nunes and restore respect and the rule of law to our national political conversation.
Thank you in advance for your support, and your donation. https://secure.actblue.com/donate/bb-whistleblower-eoq3
Bobby
PAID FOR BY BOBBY BLIATOUT FOR CONGRESS