The Fresno County Democratic Central Committee has not endorsed any candidate in this race.
FOR IMMEDIATE RELEASE
October 5, 2019
Contact: Clara Varner, cvarner@soriaforcongress.com, 559-761-6236
Grassroots Candidate Esmeralda Soria Secures Major Democratic Party Victory
Esmeralda Soria earns an overwhelming amount of support from local Democratic party delegates resulting in a historic and groundbreaking win against long-time incumbent Jim Costa
 MERCED, C.A. – Today, fueled by a groundswell of grassroots support from local Democratic Party delegates, Fresno Councilwoman Esmeralda Soria secured a historic win in the hotly contested Congressional District 16 race.
In the California Democratic Party Region 4 Pre-Endorsement conference, party delegates from Fresno, Madera, and Merced voted to deny incumbent Jim Costa the party endorsement, a privilege he has enjoyed for several decades. Sora earned 46% of the vote to Costa's 48%.  Costa's failure to secure over 60% of the vote moves the endorsement to another round of voting during the state party convention in November. 
As a longtime elected official and 8-term Congressman, the party's rebuke of Costa is a major blow to his campaign and shows the strength of Esmeralda Soria's grassroots movement. Local party delegates and grassroots leaders are quickly lining up behind her candidacy and progressive platform that rejects corporate PAC contributions, President Trump's agenda, and has put fighting for working families in the Valley front and center.   
"Since launching our grassroots campaign in August, I have walked our communities and shared my vision for a better future for all of our families. I am humbled by the overwhelming support for our proven track record of problem-solving and the endorsements of local business, faith, elected and party leaders. I will continue putting people ahead of special interests because we deserve change after decades of the status quo." said Councilwoman Esmeralda Soria.  
With this victory, the endorsement process for CD 16 will now move the California Democratic Party Fall Endorsement Convention in Long Beach, November 15-17, 2019.  
Final Vote Count:
Esmeralda Soria: 37
Jim Costa: 39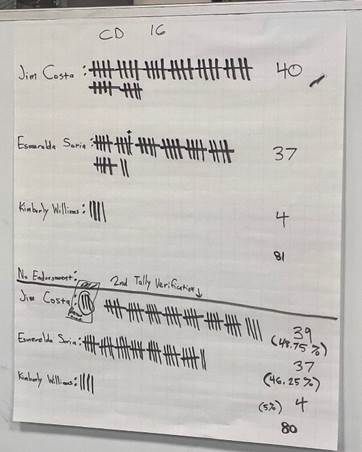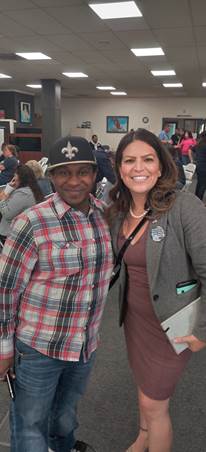 ###
Esmeralda Soria is currently running for Congress in Congressional District 16, which covers Fresno, Madera, and Merced County. She is on the Fresno City Council where she represents District 1. Esmeralda is fighting for healthcare for all, college affordability, and campaign finance reform.