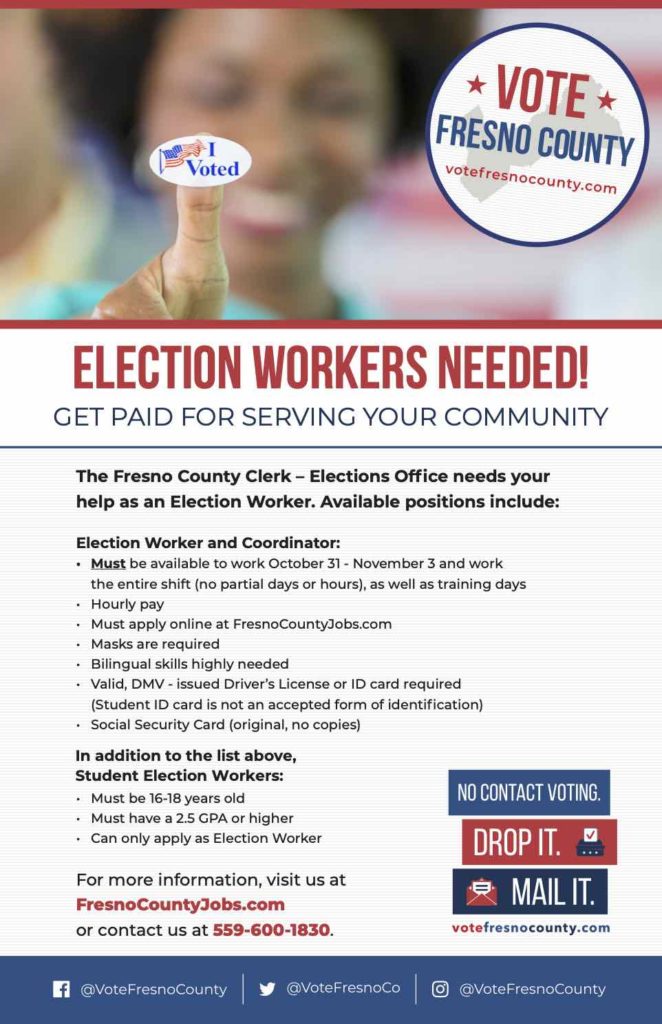 Subject: Fresno County Elections Recruitment
Dear Community Partner,
Thank you for your support during this unprecedented time in our voting history. Fresno County Elections is currently seeking candidates for Election Worker and Election Coordinator positions for the upcoming November election. Attached you will find a flyer that includes information about the positions and how to apply. Our office greatly appreciates your willingness to disseminate this information to your various distribution lists. Please do not hesitate to contact our office if you have any questions. Thank you again for your support.
Sincerely,
 

BRANDI L. ORTH
County Clerk / Registrar of Voters

COUNTY CLERK/ELECTIONS

Office: (559) 600-3013

Fax: (559) 488-3279

Email: borth@co.fresno.ca.us

 

2221 Kern Street
Fresno, California 93721

The County of Fresno is an Equal Opportunity Employer

 
NOTICE: THIS E-MAIL, INCLUDING ANY ATTACHMENTS HERETO, MAY CONTAIN INFORMATION THAT IS PRIVILEGED AND/OR CONFIDENTIAL. THIS E-MAIL IS SOLELY FOR THE USE OF ITS ORIGINAL INTENDED RECIPIENT. IF THIS E-MAIL HAS BEEN FORWARDED TO YOU, OR IF THIS E-MAIL HAS BEEN SENT OR DELIVERED TO YOU IN ERROR, PLEASE BE ADVISED THAT ANY REVIEW, USE, DISSEMINATION, DISTRIBUTION, PRINTING OR COPYING OF THIS E-MAIL, OR ANY ATTACHMENTS HERETO, IS STRICTLY PROHIBITED. IF YOU ARE NOT THE ORIGINAL INTENDED RECIPIENT OF THIS EMAIL, PLEASE NOTIFY THE ORIGINAL SENDER IMMEDIATELY BY RETURN E-MAIL. THEREAFTER, PLEASE DELETE THIS MESSAGE, INCLUDING ANY ATTACHMENTS HERETO, FROM YOUR SYSTEM; PLEASE ALSO DESTROY ALL PRINTOUTS THAT MAY HAVE BEEN MADE OF THIS EMAIL OR ANY ATTACHMENTS HERETO. THANK YOU IN ADVANCE FOR YOUR COOPERATION.