---
The Fresno County Democratic Central Committee has not endorsed any candidate in this race.
---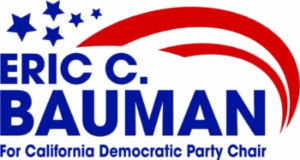 Delegates —

With Trump in the White House and Betsy DeVos running the Education Department, our schools are under attack and California must lead the way.

For years I have stood with the education community to protect our kids from school vouchers, unregulated charter schools and other schemes to privatize our schools and deny our students the public education they deserve.

I am proud to have stood with the education community to pass Propositions 30 and 55 to keep our schools funded, and with the California Faculty Association for their fight for 5 — ensuring our instructors get fair compensation.

And now the education community is standing with me in my race for Chair of the California Democratic Party.

You have a big decision to make in less than three weeks.

If public education is important to you, please join the following education leaders, along with teachers, paraprofessionals, school board members, parent activists and students across the state as part of #TeamBauman:
Superintendent of Public Instruction Tom Torlakson*
The California Faculty Association
Josh Pechthalt, President of California Federation of Teachers*
Alex Caputo Pearl, President of United Teachers Los Angeles*
Hon. Paul Fong, President of San Jose/Evergreen Federation of Teachers*
California College Democrats
The three past presidents of the California Teachers Association*

Dean Vogel
David Sanchez
Barbara Kerr

And many more
Democratically Yours,
Eric C. Bauman
Vice Chair, California Democratic Party
Chair, Los Angeles County Democratic Party
"CFA is very proud to endorse Eric Bauman for Democratic Party Chair. He is a steadfast ally of the faculty union, someone who values one of California's greatest assets, our universities! Democrats have a great leader in Eric. The 27,000 faculty, coaches, librarians and counselors of the CSU stand in strong support of Eric Bauman." — Jennifer Eagan, President, California Faculty Association
"Eric Bauman's vigorous dedication to improving local neighborhood schools and protecting students and classroom teachers is unrivaled in this race. No other candidate matches his experience, skill-sets, and deep commitment to the cause of the labor movement, standing up for working families, but most importantly, ensuring that all students of all backgrounds in our state receive the best education possible. I've just described a few of the many reasons why I'm proud to back Eric C. Bauman for Chair of the California Democratic Party." — Josh Pechthalt, President, California Federation of Teachers*"I'm proud to endorse Eric Bauman for Chair of the California Democratic Party. Eric has been an effective leader for Democrats across the Golden State, from working to advance progressive policies that improve our education system to being a champion for working people and much more. I know Eric will make an excellent Chair of the state Democratic Party." — Tom Torlakson, California Superintendent of Public Instruction*

"I'm pleased to join the broad coalition of grassroots activists, labor leaders, elected officials and organizations backing Eric Bauman for Chair of the California Democratic Party. Eric has been a force, and a bold leader for grassroots Democrats across the state. He's also been a champion for classroom teachers, students and good schools. We have worked closely with Eric to ensure the LA Unified School Board maintains a pro-teacher, pro-student majority and to defeat 'so-called' reforms that would undermine California's commitment that every student is entitled to a free, high quality public education. I know he'll make us proud as the California Democratic Party's next Chair." — Alex Caputo-Pearl, President, United Teachers Los Angeles*

*Titles included for those marked with an asterisk are for identification purposes only. All other organizations included have endorsed.