Subscribe to CDP's new podcast series!                                                                                                                                                                         
If you're like me, then you spend a lot of time in the car. Not just your regular Californian commute, but also going from district to district, even county to county, working to create the Blue Wave we all want to see in November.
Since I can't text anymore, I fill this time by listening to podcasts. And now the CDP has made a new one for you to listen to.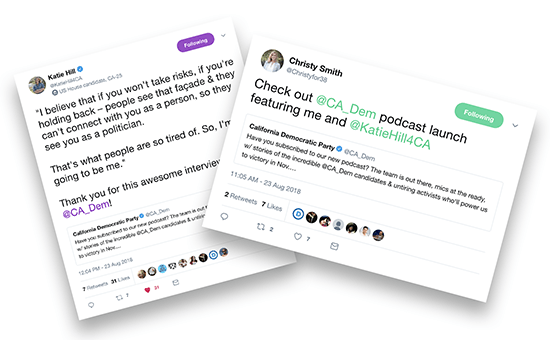 Check out Episode One of the CDP's new podcast featuring Katie Hill and Christy Smith.
In this new show, we are bringing you stories from every corner of our state to highlight the incredible candidates and unstoppable activists who make our party great.
To get this off the ground fast, Episode One is in my backyard, where Christy Smith and Katie Hill are on track to knock off useless Republican incumbents in the 38th Assembly District and 25th Congressional District. And while the first episode is in my community, we'll soon be coming to yours.
Don't miss future episodes and catch up with the first one by subscribing now.
The next episode is coming soon, so head over to iTunes, or wherever you listen to podcasts, and subscribe. We would hate for you to miss it, and hope you enjoy the ride.
And, if you're a regular podcast listener, you know what comes next… Please rate us and leave a review. Everything I listen to says this helps, and we'd appreciate it if you can help this show get heard.
Jeremy D. Thompson, Creative Director
California Democratic Party
P.S. Organizing is all about the ask, so here are two more. First, we don't have a name for the show yet. So, if you have a suggestion, send it to podcasts@cadem.org. Also, the lawyers are making me put a disclaimer on this thing. I think it'd be great to hear you say it. We've set up a voicemail at (661) 621-3606. Just introduce yourself and say "Paid for by the California Democratic Party." Thanks!
Paid for by the California Democratic Party
https://cadem.org/
Not authorized by any candidate or candidate committee.
All content 2018 California Democratic Party, All Rights Reserved
1830 9th Street, Sacramento, CA 95811 Privacy Policy