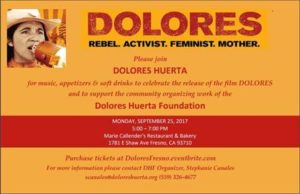 Dolores Huerta is among the most important, yet least known, activists in American history. An equal partner in co-founding the first farm workers unions with Cesar Chavez, her enormous contributions have gone largely unrecognized. Dolores tirelessly led the fight for racial and labor justice alongside Chavez, becoming one of the most defiant feminists of the twentieth century—at 87,and she continues the fight to this day with her work at the Dolores Huerta Foundations, a non-profit organization.
With intimate and unprecedented access to this intensely private mother to eleven, the film reveals the raw, personal stakes involved in committing one's life to social change. Directed by Peter Bratt. The movie will be released in Fresno from September 22nd to the 28th at the Maya Cinema https://www.doloresthemovie.com/
Please join Dolores Huerta for music appetizers and soft drinks to celebrate her Movie Release, her life and immense contribution to social justice. 

Donors and Supporter like you make possible for the work on Dolores Huerta Foundation to continue impacting the Central Valley in areas like LGBTQ Rights, Civic Engagement, Insfrastructure development, Education.
Please purchase your donation tickert at DoloresFresno.eventbrite.com
Students $10.-
Adults $25
Activist Sponsorship $100
Rebel Sponsorship $200