---
The Fresno County Democratic Central Committee has not endorsed any candidate in this race.
---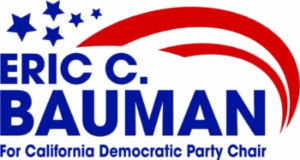 MEDIA RELEASE
For Immediate Release
March 29, 2017
Contact: Dave Jacobson, (818) 943-2348
Maclen Zilber, (510) 508-9142
Jacobson & Zilber Strategies
BAUMAN ADDS 10 DEMOCRATIC CLUB ENDORSEMENTS IN CDP CHAIR RACE 
New Grassroots Support Brings Electric Jolt of Momentum into Eric Bauman's Campaign for California Democratic Party Chair
LOS ANGELES, CA – Infusing his campaign with a healthy dose of new momentum, today California Democratic Party Vice Chair Eric C. Bauman garnered the endorsements of myriad grassroots and diverse activists who are embodied and represented by a broad spectrum of Democratic Clubs, spanning from the oldest and largest African American Democratic Club in California to iconic LGBTQ organizations, Latino, Korean American, and Armenian American activist groups among others, including:
New Frontier Democratic Club
Latino Democrats of the San Fernando Valley
Democratic Club of Claremont
Democrats for Israel (DFI)
Korean American Democratic Committee
Northeast Democratic Club
Beach Cities Democratic Club
Hubert Humphrey Democratic Club
Southern California Armenian Democrats
Stonewall Democratic Club
In announcing their support, several Club Presidents released statements, including the following:
"The New Frontier Democratic Club is supporting Eric Bauman for Chair of the California Democratic Party because we are confident that Eric will be a leader for ALL Democrats and ALL people of California — no matter who they are or where they're from. That's because inclusivity and equality is ingrained in his DNA. Eric has shown time and again his abilities to be a champion, a voice, an advocate and a leader for everyone. These are precisely the characteristics and proven qualities that we need in our next California Democratic Party Chair."
– New Frontier Democratic Club President Mike Davis
"After working with Eric for many years, I know that he is the right person to take on Donald Trump and the rest of this President's bigoted, xenophobic allies in Washington.  He is a fearless and ferocious fighter who not only has years of experience getting Democrats elected, but also standing up for and championing progressive values and causes. We are proud to enthusiastically support Eric Bauman for Chair of the California Democratic Party."
– Latino Democrats of the San Fernando Valley President Jose Sandoval
"Eric Bauman is a dedicated and proven leader for grassroots Democrats, whose courage and unrelenting resolve make him best equipped to lead California Democrats into the battle ahead with Donald Trump. We need a tried and tested progressive champion who has the background and stamina needed to fight this backwards Administration at every turn, and Eric is undeniably that person. These are a few of the reasons why the Korean American Democratic Committee is proud to stand with Eric for Chair of the California Democratic Party."
– Korean American Democratic Committee President John Yi
"From leading the charge on single payer healthcare to advocating for workers' rights and championing LGBTQ equality long before it was mainstream, Eric Bauman has an unrivaled record of advancing progressive values. California Democrats need his dynamic leadership, forward-thinking ideas, and strong backbone as we prepare to fight the backwards, horrifying and abhorrent Trump agenda. For these reasons and many others, we strongly endorse his candidacy and would be incredibly proud to make Eric the first openly LGBTQ Chair of the California Democratic Party."
– Stonewall Democratic Club President Stephen David Simon
Bauman has been endorsed by scores of progressive leaders and organizations, including: Former U.S. Labor Secretary and Los Angeles County Supervisor Hilda L. Solis; UNITE HERE General Vice President for Immigration, Civil Rights, and Diversity Maria Elena Durazo, who also serves as Vice Chair of the Democratic National Committee; SEIU Local 1000 President Yvonne Walker; the California Faculty Association; the California Professional Firefighters; AFSCME/United Nurses Associations of California; the National Union of Healthcare Workers; the State Building and Construction Trades Council of California; Southwest Regional Council of Carpenters; and the United Food and Commercial Workers (UFCW) Locals 648, 770, and 324, and among others.
Eric C. Bauman is the Vice Chair of the California Democratic Party and Chair of the Los Angeles County Democratic Party, the largest local Democratic Party in the nation. His campaign for CDP Chair is building a wide-ranging coalition of support that represents every corner of our state and all of its great diversity.
*Titles for identification purposes only