---
The Fresno County Democratic Central Committee has not endorsed any candidate in this race.
---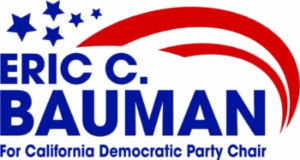 MEDIA RELEASE
For Immediate Release
April 4, 2017
Contact: Dave Jacobson, (818) 943-2348
Maclen Zilber, (510) 508-9142
Jacobson & Zilber Strategies
UNITE HERE, AFL-CIO STANDS IN SOLIDARITY WITH BAUMAN FOR CDP CHAIR
UNITE HERE! Locals 49, 2850, 2, 19, 483, 11 and 30 Endorse Eric Bauman for California Democratic Party Chair
LOS ANGELES, CA — Amassing more crucial support from working families, today California Democratic Party Vice Chair Eric C. Bauman picked up the support of UNITE HERE, AFL-CIO and its affiliated Locals, including 49, 2850, 2, 19, 483, 11 and 30 as he campaigns for Chair of the California Democratic Party. Bauman previously was endorsed by Maria Elena Durazo UNITE HERE General Vice President for Immigration, Civil Rights, and Diversity, who also serves as Vice Chair of the Democratic National Committee.
In announcing their endorsement, Jack Gribbon, California Political Director for UNITE HERE!, AFL-CIO released the following statement:
"UNITE HERE is endorsing Eric Bauman for Chair of the California Democratic Party because he is the only candidate with a proven track record of championing the causes of the labor movement. From pursuing an agenda of social and economic justice to pushing for a statewide minimum wage increase, protections for workers, single-payer healthcare for all, immigrant rights laws to myriad other issues, Eric's dynamic leadership has helped shepherd in scores of progressive policy victories in the state and at the ballot box. We need his decisive leadership and steadfastness at the helm of California's Democratic Party, both working to combat Donald Trump and Washington, while also leading the charge here in California to advance forward-thinking and compassionate policy that benefits the working families of our state."
In his role as Chair of the Los Angeles County Democratic Party, Bauman has ensured that Los Angeles County Democratic Party (LACDP) holds every major event at union hotels and facilities. Bauman and LACDP strongly support the UNITE-HERE Fair Hotel Program and have aggressively promoted it among Democratic groups and activists.
Bauman has been endorsed by scores of progressive leaders and organizations, including: Former  U.S. Labor Secretary and Los Angeles County Supervisor Hilda L. Solis; SEIU Local 1000 President Yvonne Walker; the California Faculty Association; the California Professional Firefighters; AFSCME/United Nurses Associations of California; the National Union of Healthcare Workers; the State Building and Construction Trades Council of California; Southwest Regional Council of Carpenters; and the United Food and Commercial Workers (UFCW) Locals 648, 770, and 324, and among others.
Eric C. Bauman is the Vice Chair of the California Democratic Party and Chair of the Los Angeles County Democratic Party, the largest local Democratic Party in the nation. His campaign for CDP Chair is building a wide-ranging coalition of support that represents every corner of our state and all of its great diversity.
*Titles for identification purposes only