District 1's Young Councilmembers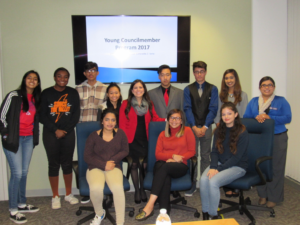 (Top Row) Harleen Gill, Savanah Bazley, Bikramjit Gill, Angelina Her, Councilwoman Soria, Jordan Lor, Christian Power, Simran Kaur, Council Assistant Itzi Robles,
(Bottom Row)  Rupinder Kaur, Jazmin Leon, Lindsay Norton
FRESNO –Fresno City Councilwoman Esmeralda Soria launches District 1's Young Councilmember Program. The 2017 class is composed of 10 students currently attending school at Central High School, Fresno High School, and Bullard High School.
The Young Councilmember Program brings together select young people throughout City of Fresno Council District One to be a part of a cohort developing leadership skills. The program will educate and challenge participants in their understanding of community, agriculture, business, technology, law enforcement, and medicine.
Councilwoman Soria stated "I am so excited to launch our first class of the Young Councilmember Program, which is designed to provide high school students with unique opportunities about potential career and educational paths. The program is focused on exploring the industries and professions that are critical to our local and state economies, learning about local government and developing the next generation of Fresno leaders."
Thank you to Fresno County Office of Education Foundation & PG&E for being the Young Councilmember Program inaugural sponsors.
Please contact our office for your additional opportunities to sponsor our youth at (559)621-7814.
District 1 News
Reminder: Please RSVP by TODAY!
Help brighten the Holidays for a child this year by donating
a new unwrapped toy for ages 5-17 years old.
Can't make it to our reception?
Make a donation at the following locations:
Gazebo Gardens – 3204 N. Van Ness Blvd.
Yosemite Falls – 4278 W. Ashlan Ave
El Bajio – 3704 W. Shields Ave.
7-Eleven– 2414 N. Fruit Ave. (Clinton Ave.)
El Ranchito Bakery – 417 W. Shields Ave.
DiCicco's Italian Restaurant – 2221 W. Shaw Ave.
Chicken Pie Shop – 861 E. Olive Ave.
Pardinis– 2257 W. Shaw