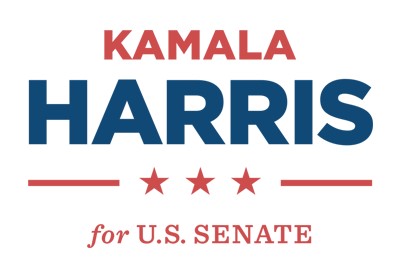 My first week in Washington
I am already hard at work, and our first week in Washington has been a busy one, to say the least.
It is clear after my first week and a half as your Senator-elect that this is going to be a time of change in our country. I know that many of you are feeling powerless, but with the cause of justice and equality being so urgent at this moment in time, we must not despair. We must recommit ourselves to this movement and continue to fight.
With that in mind, I wanted to share with you a short update on some of what I have been working on this past week:
My friend Elizabeth Warren showed me around her office, and we discussed how we could work together to create an economy that works for everyone. You know, we have read reports in recent days that Wall Street bankers are "quietly celebrating" the outcome of this election. It underscores how much harder we are going to have to work in the coming years to protect American consumers. I am glad that I will be joining a leader like Senator Warren who, like me, has always been fearless for the people and has never backed down from challenging powerful special interest groups.
I made it clear to the incoming Trump administration where I stand on critical issues like repealing Obamacare and breaking up immigrant families. I am glad that the President-elect at the very least recognizes that pre-existing conditions and the provision that allows kids up to the age of 26 to stay on their parent's health insurance are good ideas. But that is not enough. There are millions of people relying on us to fix and reform the law, not repeal it. We have seen great results, and I intend to fight for all those who deserve access to affordable and quality health care. On immigration, I believe the American people deserve comprehensive reform that favors respect and dignity—not unrealistic plans to build a wall or promises to break up families by deporting millions of people. I made that very clear while I was in Washington this week.
I signaled where I am willing to work with Republicans, especially on infrastructure investments. I am optimistic on this front, although I will not compromise on the values of justice and equality we laid out for our campaign. But if Republicans want to work with us to make progress on the $59 billion in unmet transportation needs we have in California, I am ready to get to work.
I had a chance to meet my fellow freshmen Democratic Senators-elect and I am proud to be a member of the most diverse freshmen class in our history. We have a long way to go in making Congress more representative of what America looks like, but I am excited to see this progress—and ready to work with my fellow Senators-elect to do what is necessary on behalf of the people.
We must use this moment in our nation's history to rededicate ourselves to the battle for who we are as a nation and continue to build a powerful coalition that is ready to join our fight.
The cause for civil rights is not won or lost in one election. It remains a constant struggle that all of us have a responsibility to participate in.
So stay involved. Own a piece of our future. Fight on.
Thanks for everything.
– Kamala