FPOA Supports Supervisor Henry Perea
Dear Neighbor,
The men and women of the Fresno Police Officers Association support Supervisor Henry Perea to serve as the next Mayor of the city of Fresno. Having the support of local law enforcement means he can quickly and effectively collaborate to improve the safety of our neighborhoods.
Having served 15 years as a reserve police officer, he has firsthand experience with the different types of issues a police officer goes through daily. He has the experience and leadership abilities to prioritize making our streets, schools, and parks safer for our families.
His public safety plan includes:
Ensuring 50 police officers are reassigned back into uniform and marked patrol cars.  This will reduce response times, better combat crime, and not cost taxpayers a dime.
Emphasizing the use of community-based policing and crime prevention programs.
Invest police officers back into the Fresno Police Activities League (PAL) providing positive role models to Fresno's youth.
Henry is committed to working with local law enforcement officers and the Chief of Police to implement this plan to create safer and united neighborhoods.
The men and women of the Fresno Police Officers Association ask that you join us in voting Supervisor Henry Perea for Mayor of Fresno on November 8th.
Sincerely,
Jacky Parks,
President
Fresno Police Officers Association
---
Last Day To Register is Oct. 24th
Your Voice is Your Vote! Register a friend or family member today!
http://registertovote.ca.gov/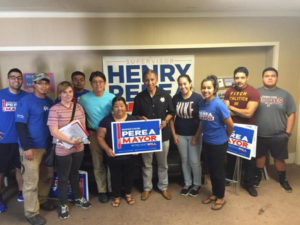 Interested in Volunteering?
Our canvassing hours range from Monday-Thursday 11AM-7PM, Saturdays from 10AM-5PM and Sundays from11-3pm. Phonebanking hours are set for Tuesdays and Thursdays from 5:30-7:30.
If any of these hours don't work for you, let us know! We are flexible and will accommodate for all of our busy volunteers!
Perea 4 Mayor 2016
803 E. Hedges Ave.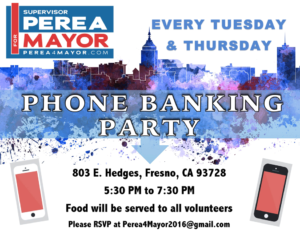 Fresno, CA 93728
21
DAYS
LEFT!