A Message From Supervisor Henry Perea
Dear Friends,
We are 28 days away from Election Day, but if you've requested to Vote-by-Mail, Election Day has arrived early! Today, ballots will be mailed out and you should receive them in your mailboxes starting this week. I would be honored to receive your vote to become the next Mayor of Fresno! When it arrives, please mail in your ballot early so that it's guaranteed to be counted. If you are still undecided about which candidate you'd support, please do not hesitate to contact me at Perea4Mayor2016@gmail.com. I'd be more than happy to hear from you and answer your questions.
And please join us on Saturday, October 15th for one our biggest walks of the Election. We will flood the streets of Fresno with supporters to Get-out-the-Vote followed by food and beers at Tioga Sequoia.
If you haven't yet registered to vote, there's still time. You can register to vote here http://registertovote.ca.gov/ .
Thank you for your support, contributions and feedback. I look forward to serving you as the next Mayor of Fresno.
Sincerely,
Henry Perea
---
Last Day To Register To Vote is Oct. 24
Your Voice is Your Vote! Register a friend or family member today!
http://registertovote.ca.gov
---
Help Us Elect The First Latino Mayor!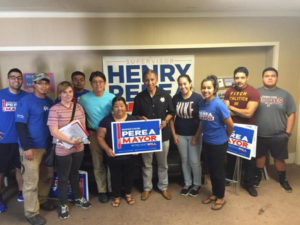 Interested in Volunteering?
Our canvassing hours range from Monday-Thursday 11AM-7PM, Saturdays from 10AM-5PM and Sundays from11-3pm. Phonebanking hours are set for Tuesdays and Thursdays from 5:30-7:30.

If any of these hours don't work for you, let us know! We are flexible and will accommodate for all of our busy volunteers!

Perea 4 Mayor 2016
803 E. Hedges Ave.
Fresno, CA 93728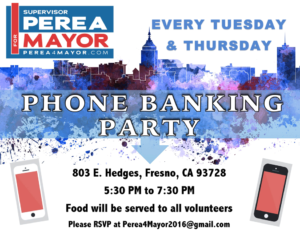 ---
28 DAYS LEFT!
---
Upcoming Event: Mayoral Debate
Oct.12th: KSEE 24 Mayoral Debate Live at 7:00pm
Don't Forget To Send In Your Ballot!