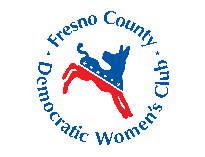 Fresno County Democratic Women's Club
Fresno, California 
Founded in 1932: The Oldest Continuously Operating Democratic Club in California
P.O. BOX 5055
Fresno, California 93755-5055
FOR IMMEDIATE RELEASE
The FRESNO COUNTY DEMOCRATIC WOMEN'S CLUB (FCDWC), founded in 1932, started the MANNING SCHOLARSHIP FUND for CSU FRESNO students in 1993.
Once the scholarship account reached a $2,500 balance, it was turned over to the CSU FRESNO
ALUMNI ASSOCIATION for administration.
The first scholarship recipient was JAMIE HERNANDEZ in 2001, who was presented a $500 award.
Since 2001, the club has awarded over $18,000 in scholarships, including this year's scholarship winners MARIA AVILA CALDERON, SAUL ENRIQUEZ CAMACHO, and ASHLEIGH SOLIS, each receiving $500.
The 3 scholarship winners for 2016 will be welcomed at
the SEPTEMBER 26 lunch meeting of the Club at the Ramada Inn, Shaw and Fresno streets.
The scholarship winners will also be recognized at the Top Dog Alumni Awards Gala at the Save
Mart Center on October 15.
For more information call: Carole at 559-289-3989
##########
For more information: Carole Laval, cell 559-289-3989, email claval@comcast.net
9-21-2016