News from Representative Costa
Click here to open this e-mail in its own browser window     Click here to open a plain text version of this email
Dear Friend,
We're in the district meeting regularly with constituents and community leaders to discuss the benefits of the American Rescue Plan and address recent anti-Asian sentiments related to COVID-19. Because of the need to ensure health safety, these meetings are primarily conducted virtually through video conference technology using smartphones, tablets or computers. Here are some highlights: 
---
Strengthening Valley healthcare

The American Rescue Plan continues to deliver on its promises to help us weather this pandemic. I'm pleased to announce that our Valley health clinics, which have played a critical role in the response to this deadly disease, are receiving increased funding from the American Rescue Plan Act to expand access to vaccinations, testing, and treatment, as well as enhance these clinics' capacity to provide care. 
Here's a list of how our clinics are benefiting: 
Golden Valley Health Centers, 

Merced  –

$24.8 million

Clinica Sierra

 

Vista, 

Valley-wide – 

$23.9 million

Omni Valley Health,

 Valley-wide – 

$20.3 million

United Health Centers, 

Fresno –

$18 million

Camarena Health, 

Madera –

$7.9 million

Livingston Community Health, 

Livingston – 

$3.6 million
Learn more about the positive impacts of the American Rescue Plan. 
---
Stopping Asian hate

Racism in America should never be tolerated. The recent increase in anti-Asian sentiment in this country, including violence and verbal abuse, are hate crimes that need attention. Unfortunately, this is the only the most recent case of prejudice against Asian-Americans. Dating back to the 19th Century, Chinese immigrants were banned under the Chinese Exclusion Act — the first act to bar immigrants on the basis of race. Later in the early 20th Century, Filipinos became the target of racist policies that justified the continuation of U.S. colonial rule of the territory. In 1942, Japanese-Americans suspected as enemies were forced to leave their homes and interned in camps simply on the basis of their heritage. We must learn from these examples to foster more inclusive mentalities to prevent further injustice going forward. 
I recently convened a forum with Asian community leaders and Judge Dale Ikeda to discuss how we can address these issues in the Valley. I also cosponsored a resolution condemning all forms of anti-Asian sentiment and another condemning the recent and horrific shootings in Atlanta, Georgia. 
---
Extended healthcare enrollment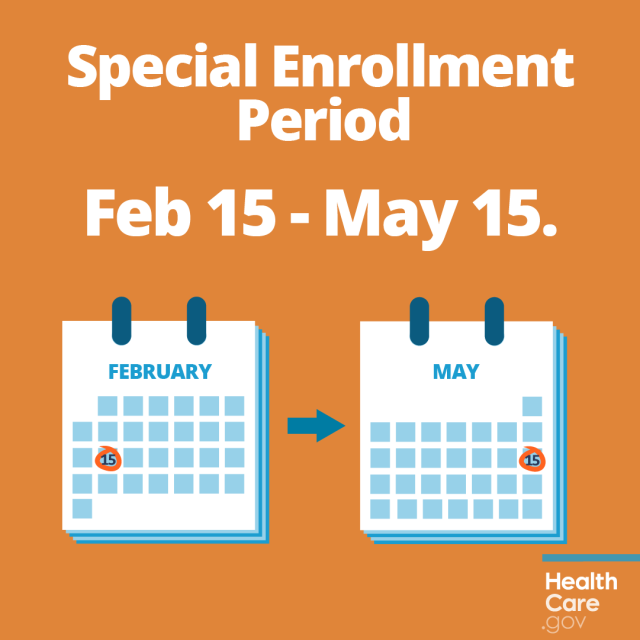 President Biden recently announced a new special enrollment period to increase access to affordable health insurance while we continue to fight the pandemic. You can explore options and sign up here until May 15th, 2021. This is one of the ways we're improving the Affordable Care Act. 
---
Helping minority farmers
For years, black and other minority farmers have been hesitant to work with the U.S. Department of Agriculture for fear of discrimination. These farmers' operations are typically smaller, but they are equally critical to feeding Americans. I participated in an Agriculture Committee hearing with Secretary Vilsack to discuss these issues. I also recently met with the African American Farmers of California to discuss the important provisions in the American Rescue Plan, including debt relief, loans, and other types of financial assistance. 
---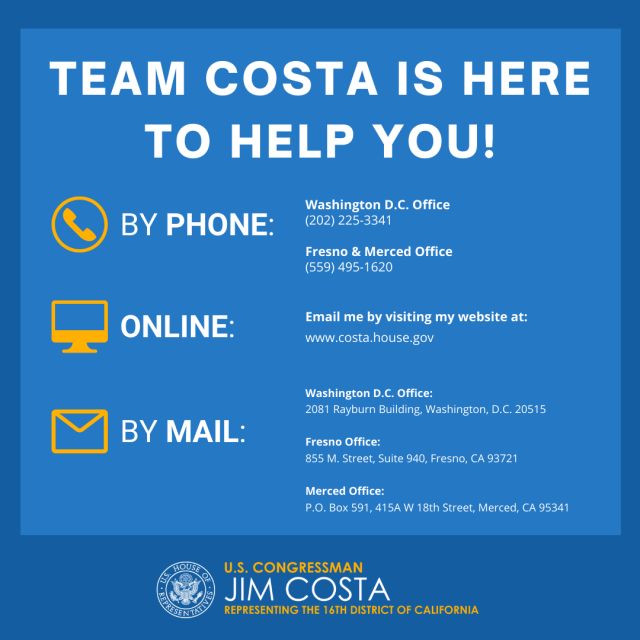 ---
We are here to help. Please contact my office if you need assistance.
Sincerely,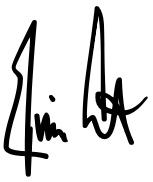 Jim Costa
Member of Congress
Click here to subscribe to my e-newsletter
 

Fresno Office
855 M Street
Suite 940
Fresno, CA 93721
559-495-1620

Merced Office
2222 M Street
Suite 305
Merced, CA 95340
209-384-1620

Washington, DC
2081 Rayburn
House Office Building
Washington, DC 20515
202-225-3341