From: Ashley Werner [mailto:awerner@leadershipcounsel.org]
Sent: Tuesday, August 8, 2017 9:51 PM
Subject: This Friday – The Battle for Matheny Tract Film Screening & Panel
Hi friends, allies, and colleagues!
Please join us this Friday, August 11th at Fres.Co for a community film screening of the documentary, "The Battle for Matheny," followed by a panel discussion with community leaders featured in the film, Reinelda Palma and Hugo Trujillo, along with the filmmaker Samuel Contreras and myself.  The film features the persevering and ultimately successful efforts of residents of Matheny Tract, Tulare County, to secure their community's right to safe and affordable drinking water.  The discussion will include current efforts to ensure that the human right to water is realized for all communities across California.
Here are the details:
Where: Fres.Co, 1918 Fresno Street, Fresno, CA, 93721
What & When: Doors Open – 6; Reception – 6:30; Film Start -7:00; Discussion – 7:30-8:00
Please share this invitation with others who may be interested!  Hope to see you there!
Ashley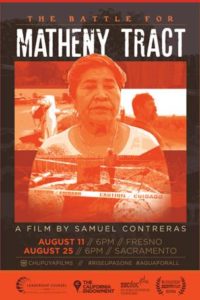 –
Ashley Werner
Senior Attorney
Leadership Counsel for Justice and Accountability
764 P Street, Suite 012, Fresno, CA 93721
Direct: (559) 369-2786
Cell: (415) 686-1368
www.leadershipcounsel.org
Twitter: @LCJandA