The Fresno County Democratic Central Committee has not endorsed any candidate in this race.
A message from Senator Kamala D. Harris


The Ongoing Fight for Women

Friend,

 



This year's Women's History Month stands apart from the rest because of where we are in our nation's history. For the first time in history, there is a total of 131 women serving in the United States Congress, 25 of whom are Black women. I'm hopeful that we'll see more and more leaders unburdened by what has been and knowing what can be.

 



Something I've seen over and over again in my own career is that women in power bring a different perspective. An essential perspective. And it's a perspective I hope to see represented more and more at every level of society.

This month, I'm reminded that we wouldn't be here today had Shirley Chisholm not paved the way and become the first Black woman elected to Congress over 50 years ago. Let's be clear about one thing. All of us stand on her shoulders. She is the personification of what my mother used to say to me – don't let anyone tell you who you are, show them who you are.

 
Her legacy continues to inspire me to fight to give a voice to the voiceless and pursue justice and equality for every American. That's why I am joining Representative Yvette Clarke in reintroducing a bill to place a statue of Shirley Chisholm in the U.S. Capitol. There are too few statues and busts of Black women in this building, and a commemorative statue to Shirley deserves to stand tall in the United States Capitol and right beside Rosa Parks, Frederick Douglass, Dr. King, and Sojourner Truth. So let's get this done.

Today and every day, let's remember there are still all kinds of structural barriers to equality. But a big piece of what we need is to create that path for those who will come after us. We need to lift up others as we have been lifted ourselves.

 

Kamala D. Harris
United States Senator 

 
---
Speaking Truth:



Shirley's legacy inspires us to continue our fight to

give a voice to the voiceless and pursue justice and equality for every American.

 

-Senator Kamala D. Harris 
This month, Senator Harris

 

reintroduced a bill

 

directing Congress to commission a statue of former U.S. Representative Shirley Chisholm to be displayed in the United States Capitol. Companion legislation will also be introduced in the House of Representatives by Rep. Yvette Clarke. A native of New York, Chisholm served in the New York State Assembly before she was the first Black woman to be elected to the United States Congress. Chisholm was also a founding member of the Congressional Black Caucus and the first Black woman to seek a major party's nomination for president.  

 
---
Paying Attention: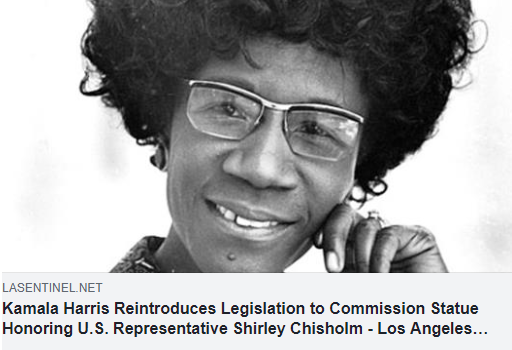 ---
Staying Connected