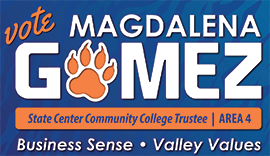 This election I have had the privilege of working on Magdalena's campaign.
It is an honor for me to support one of our community's most hardworking and dedicated leaders, a woman who each of us has seen commit herself to community service in innumerable ways for many years.
Now, in the final week of the election – one that we have all vested so much in winning – I ask for your assistance in helping us powerfully finish our campaign through to election night.
We are joined together with other campaigns, with neighbors and friends, to get out the vote in these exciting final days.
There are four simple ways to contribute and encourage others to join you:
Email

– Send out an email to your network of family and friends urging them to support Magdalena.
Walk

– We are joining other local, regional and statewide campaigns in these final days to get out the vote. Contact me (text: 559-967-1940 or email: info@vote4gomez.com) for information on where the action is and how you can join the collective effort. Everyone is working together – we are stronger with you joining us.
Donate

– We are $2500 from our fundraising goal. Contribute at:
https://secure.actblue.com/donate/gomez-for-scccd-trustee-4–2018
Social Media

– Will you change your profile picture to Magdalena's logo and post on why you support her?
These are four easy ways to finish the campaign strong and win next Tuesday.
Our Vote4Gomez campaign team will be in the following cities the next couple of days:
Selma, Sanger, Parlier, Reedley, Dinuba and Orange Cove
On Election Day:  Tuesday, November 6th, we will be everywhere.
Please join us for a joint Election Night Watch Party with other campaigns at:
721 Broadway
Fresno, CA
Attached below is the event flyer with more details.
Thank you, all, for the support for our campaign!
In solidarity,
Daniel O'Connell
Vote4Gomez Campaign
"A Champion For Reedley College"